let me start my comeback with the flava of the month for the month of May....
Rimmel Fix & Perfect foundation primer 001
a primer is used to make your skin smooth, it minimizes your pores, it's supposed to even out your complexion & prolongs the wear of your foundation.... I can definitely vouch for all these! I've been using this primer since the beginning of May only coz my MUFE primer became a permanent resident of one of my caboodles... & I can't believe I abandoned it before... this primer is awesome! it really makes my pores look like they're not there, therefore makes my skin looks smooth & ready for the foundation....
L'Oreal True Match super-blendable makeup W4
I have been using this foundation ever since I got it in April (see haul post
HERE
) & I love it!!! it matches my skin tone really well & I love how natural it looks! it doesn't cake even with the warm weather... it stays on pretty good too, I'm not too sure how long though, like I said it matches my color really well that I couldn't really tell when it rubs off....
MAC Mineralized Skinfinish Natural Medium
you all should already know how much I love this powder... it's my forever HG powder! I wear it most of the time (most of the time only with concealer underneath & sometimes with liquid foundation).... this MSF usually works good with anything but for some reason I think this works really really really good with the True Match foundation... they are like partners in crime.... they're like peanut butter & jelly... Bonnie & Clyde... sushi & soy sauce... spam & eggs... Davi & Black Ops... rice & vinegar... LOL... ok the last 3 were weird coz they were contributed by the manfriend.... hahahaha.... but you catch my drift right?! I think these 2 were made for each other... nuff said!
NYC Smooth Skin bronzing face powder 720A Sunny
loooooovin this bronzer!! I love how it's very soft & subtle... the only thing I'm not very fond of is that it leaves a harsh line, you have to blend it really good.... but other than that I love it for everyday use....
Make Up For Ever blush powder Orange Coral Matte 5
I've been so into orange lips for months & months now & this blush color from MUFE seem to be my go-to... it's the perfect peachy color for my complexion... a little bit goes a long way with this product.... I love that you can always build up the color if you want a brighter orange....
MAC bronzing powder Refined Golden
I got this in April but I started using it only mid-May... you only need an itty-bitty amount of this product, just a very light brush on the cheeks to give you a little bit of that bronzey[glitter] effect... this is something that you don't wanna overdo, otherwise it will look, well overdone (duhhrrrr!!)... a fan powder brush is perfect for this, or anything that would allow lightly sweeping of the product much like the one from Laura Mercier on the picture below....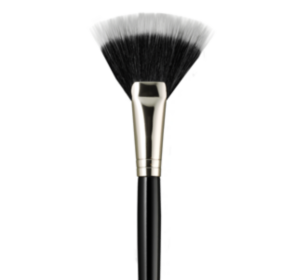 Coastal Scents' Flat Bronzer brush
due to laziness, my makeup brushes, which have been used at a makeup gig, are still all unwashed & I wouldn't usually embarrass my self like that but I can't keep this unmentioned because I just found me an all-around brush!!! believe it or not, this is the only brush I use for my whole face.... it's perfect for all over powder... I use it to contour my cheeks by turning it in an angle... I also use it to dab lightly on the MAC bronzing powder & apply it with a very light hand... & finally I use it to apply my blush... I just make sure that I wipe it on a clean towel in between application of different products...
I usually use my fingers to apply my liquid foundation so I wouldn't normally use this brush [or any brush for that matter] but just for the purpose of proving a point (that this is indeed an or should I say THEE all-around brush) I tried it with my liquid makeup & it works too!!! CS should change its name to multi-purpose brush....
Milani Liquif'Eye metallic eye liner pencil 01 Black
this to me is the master of all black eyeliners!! it glides on super smoothly & let me tell you, it won't smudge or budge for shit!! it stays on all day.... the only thing with this eyeliner is that you can't use it if you are planning on a smudged, smoky eyeliner look.... other than that, it is love!
Maybelline NY the Falsies Volum' Express mascara Very Black
if you want volume on your lashes, this is the way to go.... need I say more???
Wet n Wild ultimate brow kit 963 Ash Brown
& of course, the ever so awesome eyebrow kit!! can you tell how much I use this product with how dirty the gel(the white on top) is?! haha... excuse the nastyness, but yes, I cannot live without this product, may not be part of my everyday routine but when I do get dolled up, this is the one I pick up all the time!
Wet n Wild megalast lip color Pink Suga'
just a pretty nude lip color... with enough amount of moisturizer underneath it, it's a great lipstick, otherwise it's too drying.. but I still love it!
my everyday makeup usually consists only of moisturizer(not shown), sunblock(not shown), eyeliner, mascara & lip balm... I don't feel like getting too dolled up just to get super sticky after an oral surgery....
but yeah, these are my go-to products for the month of May....